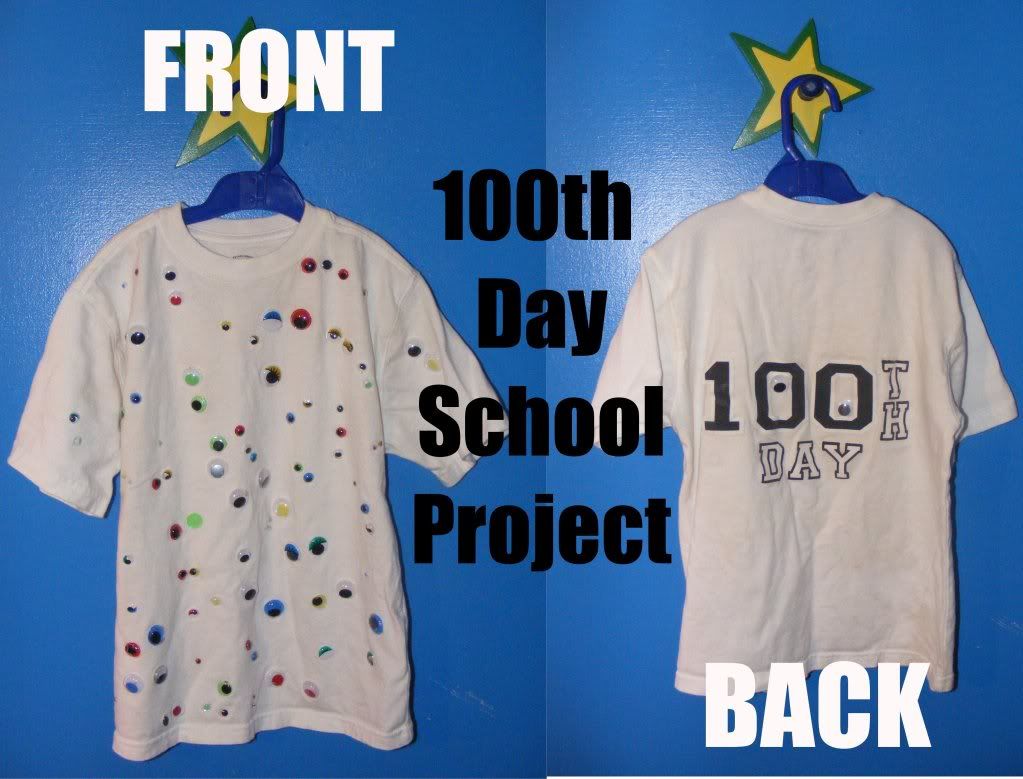 So my little one came home from school with a 100th day of school project. The requirements where to use 100 things to celebrate the marking of the 100th day of school. Also, each parent and child had to contribute on the project. My little feller is not crafty....doesn't like to do anything creative in less it involves a huge mess...(I love him still). So this is what I came up with for his project.
WHAT YOU WILL NEED!!!!! -A cheap white or any color that you would prefer shirt....I got his at Wal Mart for $3 on clearance (gotta love a deal)
-Low temp glue gun... So its not too hot for little fingers(I also used a high temp for me)
-100 googly eyes. I chose the ones with color to make it stand out more
-Transfer letters. You can make these on your comp. with transfer paper or buy them.....I bought them....
FIRST!!!! I washed and dried the shirt. Also I ran the iron over it to make it more flat....(In the pics its not ironed..LOL)
On the front of the shirt randomly glue 98 eyes. (The other two I placed on the back in the 100 to make it look like eyes.)
On the back....I followed the instructions on the back of the package that the transfer sheets come in. and glued the remaining two eyes on the back in the Zeros. Turned out CUTE!!! TA DA....project is done.
SO AFTER LOOKING AT THESE PICS ON HERE.......IT LOOKS LIKE THE CORNER OF THE SHIRT IS STAINED........ITS NOT......ITS A SHADOW............I WENT AND GOT THE SHIRT TO MAKE SURE LOL!!!!!!!